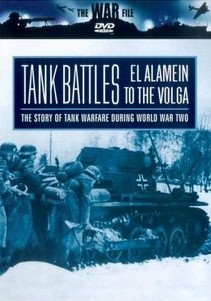 This documentary covers armoured warfare during World War II. It touches on the invasion of Poland and France, but the main focus is on the battle for North Africa, and the German offensive on Kursk. The entire documentary consists solely of real wartime footage.
The documentary starts with the German defeat at Stalingrad to set the scene for the later discussion on Kursk. It then covers the blitzkrieg tactics that were used so successfully at the start of the war. This in turn sets the scene for North Africa, where the British are able to counter German tactics.
The North African campaign is covered starting with the success of O'Connor against the Italians. It then shows how Rommel turned the tables in North Africa when he landed with German Panzers. Montgomery is then introduced, and the battle at El Alamein is covered.
The Russian campaign is covered starting with the preparation for Kursk, followed by a day by day account of the conflict culminating with the battle at Prokhorovka, which involved more tanks than any other battle in history. Some coverage is given of the Russian T-34 tank, as well as the three "super tanks" the Germans were deploying at Kursk – the Tiger, the Panther and the Elephant.
---
http://rapidshare.com/files/230924758/Tank_Battles.part1.rar
http://rapidshare.com/files/230930337/Tank_Battles.part2.rar
http://rapidshare.com/files/230935683/Tank_Battles.part3.rar
http://rapidshare.com/files/230941197/Tank_Battles.part4.rar
http://rapidshare.com/files/230947601/Tank_Battles.part5.rar
http://rapidshare.com/files/230952295/Tank_Battles.part6.rar
http://rapidshare.com/files/230957274/Tank_Battles.part7.rar
http://rapidshare.com/files/230961485/Tank_Battles.part8.rar